Gannet's Gourmet Fish Skewer
€29.00 / Kg
Sunshine on the way … We dusted off the Skewing machine… Half pounders (225 g) A proper size fish skewers…. A meal on a stick, big enough to satisfy any hungry Gannets!..
Half-Pounder (225 g ) Fish skewer
One pack costs: €7.00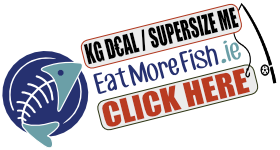 Ingredients:
Three big chunks of Organic Salmon, Two massive lumps of fresh Monk fish, and a few vegs impaled there and there…
Sustainability:

Catch area / Method of capture:

Irish organic grown Salmon , Wild caught Irish Monk fish
Fishmongers Tip:
Add a sprinkle of salt before cooking. Enjoy those nature or jazz them up with a dusting of Paprika or a quick marinate of Teriyaki,, Sweet chili sauce, Frank's etc...