CLEANED Irish line caught SQUID
€25.00 / Kg
After a 2 years of bad fishing and zero supply… Our fresh Line caught Squids are back on the menu. The season is always very short 5 to 6 weeks or even less if the Autumn weather is against us . Do not wait and put it back…  Buy and enjoy those now while they are available.  What does makes so Squid so special? They are all line caught with handheld rods and looked after like black Gold by the fisherman who take great pride to be part of this fishery.
Read More
500g ( squid size may vary)
One pack costs: €12.50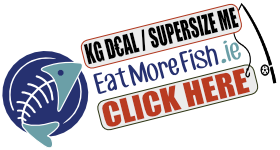 Sustainability:

Latin name:

Loligo vulgaris

Catch area / Method of capture:

Line caught, Ireland, Secret location ...